ADA/EASD consensus update on management of hyperglycaemia in type 2 diabetes – report published in Diabetologia and Diabetes Care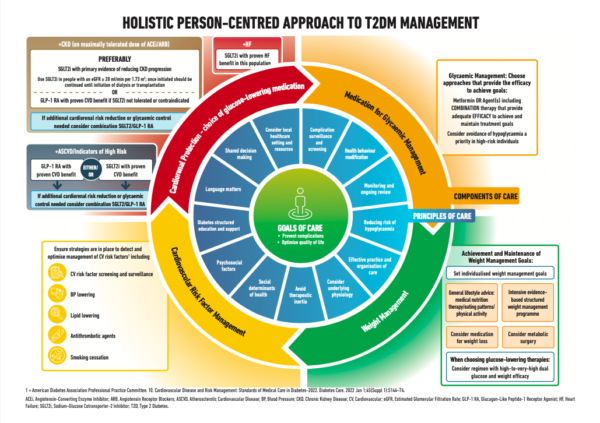 Embargo: 1215H PM Stockholm local time Friday 23 September
The European Association for the Study of Diabetes (EASD) and the American Diabetes Association (ADA) are together launching their new consensus update on management of hyperglycaemia in type 2 diabetes.
The update has been prepared by an international committee of experts that include Prof John Buse (University of North Carolina School of Medicine, Chapel Hill, NC, USA) and Melanie Davies, Professor in Diabetes Medicine at Leicester Diabetes Centre, Leicester, UK, and their colleagues. It updates the previous consensus report (2018) and update (2019), and this new document will be published in both EASD's journal Diabetologia, and the ADA Journal Diabetes Care.
At the ADA conference early this year (June 2022), a draft version of the report was presented and the opportunity for feedback provided and reviewed. Among the suggested changes were more focus on person-centred care, equity of care, and managing weight loss. The committee reviewed the changes and final report is now ready for publication. 
The update provides guidance on improving equity of care and also on how the social determinants of health (SDOH) impact on effective management of hyerglycaemia. It also focuses on the importance of weight loss and the use of evidence from randomized controlled trials on glucose-lowering medications to support evidence on weight loss/weight gain.  And as is in other ADA-EASD joint consensus reports, far more attention is being given to the person's involvement in their own diabetes care, including their home and economic circumstances, how they feel about the side effects of different possible medications and helping choose their medication, and playing a full part in forming a care management plan with their doctor that is regularly monitored and updated.
Various recommendations on physical activity are included, including light exercise/resistance training every 30 minutes while sitting; an extra 500 'daily steps'; 150 minutes of moderate to vigorous physical activity every week; strength training two or three times per week; and finally sleep of between 6 and 9 hours duration.
Updates on glucose-lowering therapies are provided, among them recommendations  on the oral GLP-1 Receptor Agonists, higher doses of dulaglutide and semaglutide, the GIP/GLP-1 RA class, combination GLP-1 RA and insulin. And specific information on comorbid conditions is included, including atherosclerotic cardiovascular disease, heart failure and chronic kidney disease.
And many themes come together regarding person centred care, including the language used discussing care with patients, shared decision-making, access to diabetes self-management education and support, considering the local care environment and the resources available, avoiding inertia in patient management plans and consideration of more aggressive and proactive treatment at the start including potential use of combination therapy immediately.
All News